Online Ticket Sales System for Events
Ticketbud is an all-in-one system that allows you to sell tickets online to your event for free. Find out more below!
Sell Tickets Fast. Get Paid Faster.
Our ticket sales system provides the quickest setup experience, period. You'll love the simplicity and convenience of using Ticketbud. Choose daily payouts and get paid the next day. No more worrying about receiving funds until after your event ends.
A System That Takes Care of the Heavy Lifting
Ticketbud's online ticket sales system for events gives you complete control over your ticketing, promotion, and attendee management requirements. Our platform assists in every aspect of the planning process. We're in the business of making an event your crowning achievement.
Increase Exposure Exponentially
What's the point of planning an event if you don't have an audience? Leverage our promotional toolkit to avoid an empty venue. Your Ticketbud event page is a magnet for potential ticket buyers. Send enticing email invitations to your lists & push directly to social networks. Our online ticketing system publishes your event to our network of listing sites & encourages attendees to share your event with their friends. All promotional efforts can be analyzed with our referral tracking system so you optimize every last marketing dollar.
Competitive Pricing
Ticketbud's platform is always free for free events. For paid events, you can pass on our competitive service charge to your attendees, making our software completely free for you to use! You'll always have the option to cover the service charge yourself if you wish.
Your Event Management Hub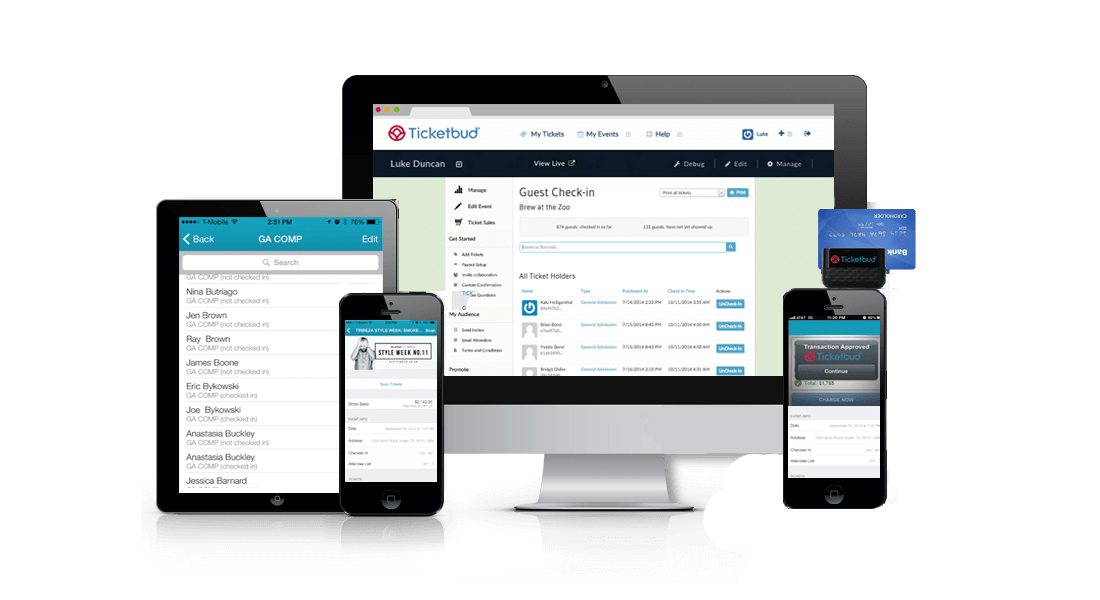 No one likes a poorly planned event. With Ticketbud, rest easy knowing that you'll never fall for common pitfalls. Day-of-event tools like our free ticket scanning apps & cross-event sales reporting guarantee precise control from beginning to end. Planning committees love to collaborate and collect valuable insights on your attendees. Ticketbud's platform brings order to your organizational process.
We're here to help!
Let an expert walk you through a demo customized to your event.