Online Ticket Sales
Get online ticket sales fast with Ticketbud's free and user friendly ticketing software. Take control of your event and get paid fast.
Sell Tickets Fast. Get Paid Faster.
Our online ticket sales software is the best way to create your event. It'll only take a couple minutes to create your custom event page and start selling. You'll love the simplicity and convenience of using Ticketbud. After creation, choose our internal processor and get paid every day after attendees buy tickets. No more worrying about receiving funds until after your event ends.
Selling tickets is your primary goal, so we've built our system to help make it as easy to do as possible. However, we take it a step further.
Our software gives you complete control over your promotion, marketing, and attendee management. Thanks to our partnership with Zapier, you can connect Mailchimp and a host of other services to help you sell more! Helping you get more sales is our primary mission, so we have tools to assist you in every way possible. We're in the business of making your event a crowning achievement and an experience that everyone is talking about afterwards.
Competitive Pricing
Ticketbud's platform is always free for free events. For paid events, you can pass on our competitive service charge to your attendees, making our software completely free for you to use! You'll always have the option to cover the service charge yourself if you wish. If you'd like to learn more about Ticketbud's pricing, click here to learn more.
Getting started with Ticketbud is easy and fast.
Sign Up with your email and password, and then you'll be brought to the event creation page automatically.
Start entering details for your event. All you need to do is enter in the name of the event, as well as a ticket type. If you don't have more info, that's okay. You can enter in other details as you get more information. If you already know more details, go for it!
Once you're all set, enter in payment details so you can get paid for all of your ticket sales. Your event will activate, allowing you to market your event on social media and via email.
Increase Exposure To Sell More
What's the point of planning an event if you don't have an audience? Take advantage of our promotional toolkit to get more people coming to and talking about your event! Your Ticketbud event page is a magnet for getting more attendance. Sell tickets on Facebook with a simple integration. Send email invitations to your lists and push directly to social networks. Our online ticketing system publishes your event to our network of listing sites and encourages attendees to share your event with their friends. All promotional efforts can be analyzed with our referral tracking system so you optimize every last marketing dollar.
Your Event Management Hub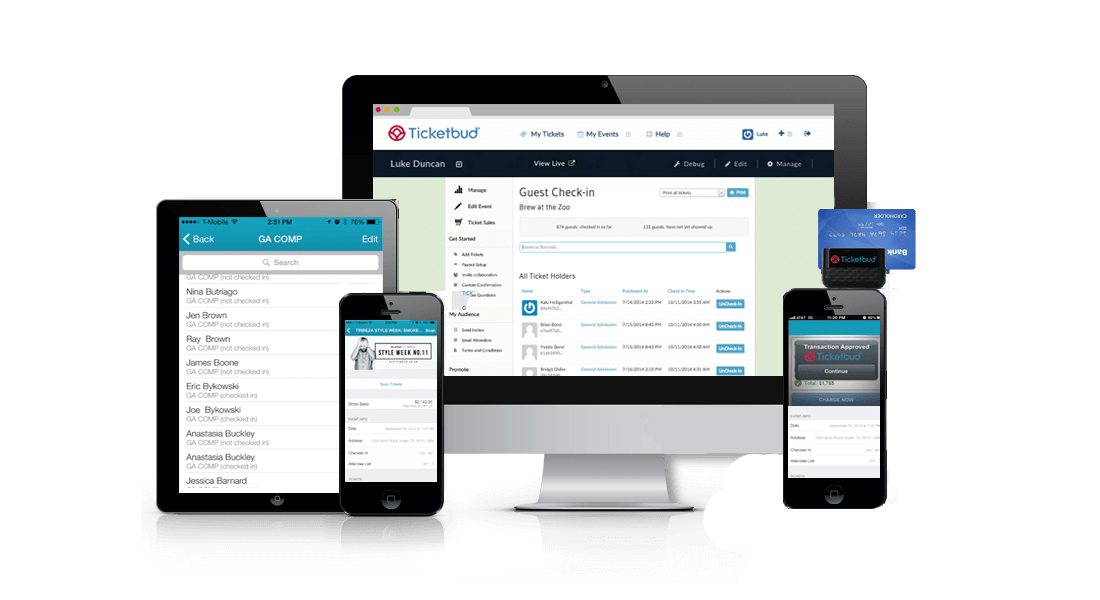 Everybody loves a well-planned and seamless event. With Ticketbud's event software you can rest assured that you won't have to sweat the small stuff. Focus on the pressing matters, we have you covered with day-of-event tools such as our free and quick event planning app.
We also include cross-event sales reporting to guarantee a precise control from before your event begins to when it all wraps up. Every ticket purchase gives you valuable attendee data, and these insights can be used by planning committees and organizations to better optimize their event for following years. Overall, Ticketbud's event registration software is designed to help you pre, during, and post event.
"The customer service has been second to none. Nothing has been an issue, and all of my queries from the other side of the globe have been answered super promptly. I'm impressed." Jonathan Powles, GS Adventures New Zealand
We're here to help!
Let an expert walk you through a demo customized to your event.
Get A Quick Preview of Ticketbud
Ready to Get Your Online Event Up And Running?