Free Online Event Registration Software
Ticketbud's free event registration software takes care of your ticketing, promotion, and attendee management. Take control of your event.
Sell Tickets Fast. Get Paid Faster.
Our event registration software provides the quickest setup experience, period. You'll love the simplicity and convenience of using Ticketbud. Choose daily payouts and get paid the next day. No more worrying about receiving funds until after your event ends.
A Registration Platform That Assists All Aspects of the Organizing Process
Creating an event online requires much more than just an ability to receive money from attendees. Ticketbud's event registration software covers every angle of the event creation, and marketing process. Widgets and integrations with popular services such as Zapier give you the ability to control any aspect of your event. We've got you covered with email, marketing, ticketing, and event management tools. Regardless the size of your event, our goal and purpose is to help make your event as successful and manageable as possible.
Versatile Ticketing for Any Event.
Attract a Massive Audience
When you register an event , you have a golden opportunity to gain access to new audiences online. Ticketbud's promotional toolkit has will help you reach the moment of "Eureka!" and make the best of your opportunity!
Staples of the platform include email blasts to attendees and Facebook page creation. When they buy tickets, attendees are able to share their plans via the most popular social media sites. Finally, Ticketbud comes stock with a referral tracking system. With our system in place, you can optimize every last marketing dollar and sell more tickets online.
Your Event Management Hub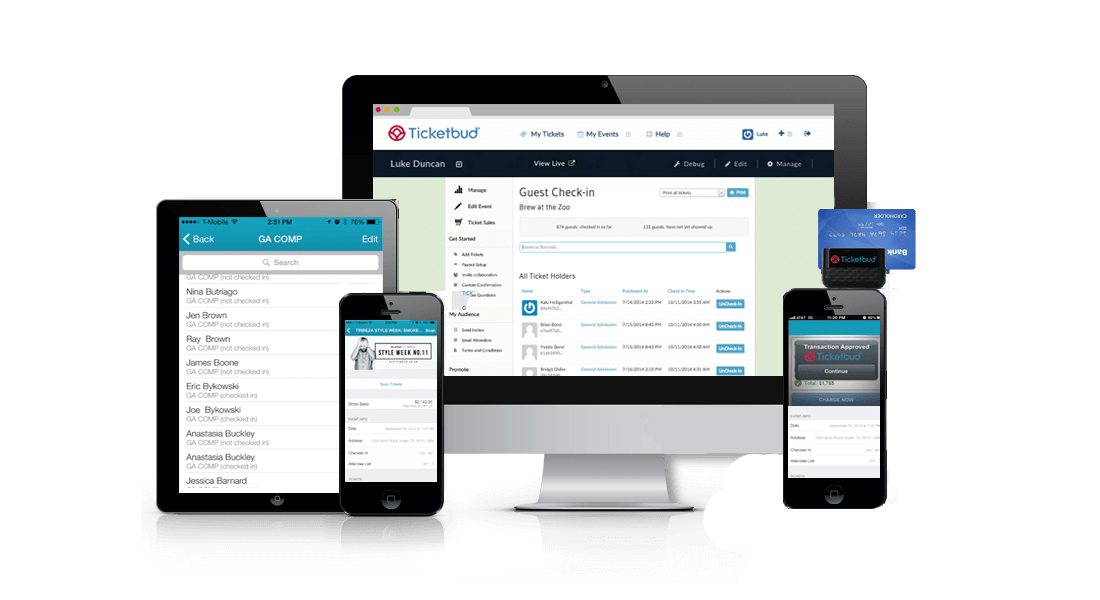 Everybody loves a well-planned and seamless event. With Ticketbud's event software you can rest assured that you won't have to sweat the small stuff. Focus on the pressing matters, we have you covered with day-of-event tools such as our free and quick event planning app. We also include cross-event sales reporting to guarantee a precise control from before your event begins to when it all wraps up. Every ticket purchase gives you valuable attendee data, and these insights can be used by planning committees and organizations to better optimize their event for following years. Overall, Ticketbud's event registration software is designed to help you pre, during, and post event.
Competitive Pricing
Ticketbud's platform is always free for free events. For paid events, you can pass on our competitive service charge to your attendees, making our software completely free for you to use! You'll always have the option to cover the service charge yourself if you wish.
We're here to help!
Let an expert walk you through a demo customized to your event.