Best Eventbrite Alternatives
Ticketbud is the best Eventbrite alternative out there. We offer daily payouts, excellent customer service, and competitive service charges. See why organizers switch, everyday!
Sell Tickets Fast. Get Paid Faster.
If you need a site like Eventbrite, Ticketbud is the best way to create your event. It'll only take a couple minutes to create your custom event page and start selling. You'll love the simplicity and convenience of using Ticketbud. After creation, choose our internal processor and get paid every day after attendees buy tickets. No more worrying about receiving funds until after your event ends.
Expert Customer Support Go to a lot of ticketing sites, and you'll notice that you have to fill out a help form and then you're stuck waiting for a response, by email. This is unacceptable, especially if you've run into an issue with the system you're using and it's urgent. No software is perfect, and having support on standby ready to assist is extremely important. Ticketbud offers phone, email, and chat support and is expanding its team all the time.
Our software gives you complete control over your promotion, marketing, and attendee management. Thanks to our partnership with Zapier, you can connect Mailchimp and a host of other services to help you sell more! Helping you get more sales is our primary mission, so we have tools to assist you in every way possible. We're in the business of making your event a crowning achievement and an experience that everyone is talking about afterwards.
Competitive Pricing
Ticketbud's platform is always free for free events. You can see in the image compared with our main competitor, we offer a significantly reduced charge.
Ticketbud defaults to passing the service charge off onto your attendees, which makes Ticketbud 100% free for you to use! If you'd like, you can choose to incur the charge yourself.
Here, you can see the comparison of Ticketbud's fees with our main competitor's "Pro" pricing. A pretty nice difference! Are you running a non-profit event? You can get an even better rate for the service charge that's passed on - 1.75% + $0.99. Just contact our Customer Experience team with details regarding your event, and we will get you all situated. If you'd like to learn more about Ticketbud's pricing, click here to learn more.
Getting started with Ticketbud is easy and fast.
Sign Up with your email and password, and then you'll be brought to the event creation page automatically.
Start entering details for your event. All you need to do is enter in the name of the event, as well as a ticket type. If you don't have more info, that's okay. You can enter in other details as you get more information. If you already know more details, go for it!
Once you're all set, enter in payment details so you can get paid for all of your ticket sales. Your event will activate, allowing you to market your event on social media and via email.
Daily Payouts
The third advantage that Ticketbud has over Eventbrite and other ticketing companies is that we offer daily payouts. When you sign up with our internal processor, you will get access to daily payouts for free. This means that you'll be getting revenue from the previous day deposited directly into your account. No more waiting until after your event to get paid. Eventbrite does offer the option of weekly payouts, but you have to go through a rigorous process and you're not guaranteed it. Most other alternatives to Eventbrite are similar in this approach. Plus, it's still weekly - you have venues and caterers and other expenses to pay. Getting paid daily is the best and only choice. Sell tickets on Facebook with a simple integration. Send email invitations to your lists and push directly to social networks. Our online ticketing system publishes your event to our network of listing sites and encourages attendees to share your event with their friends. All promotional efforts can be analyzed with our referral tracking system so you optimize every last marketing dollar.
Your Event Is The Star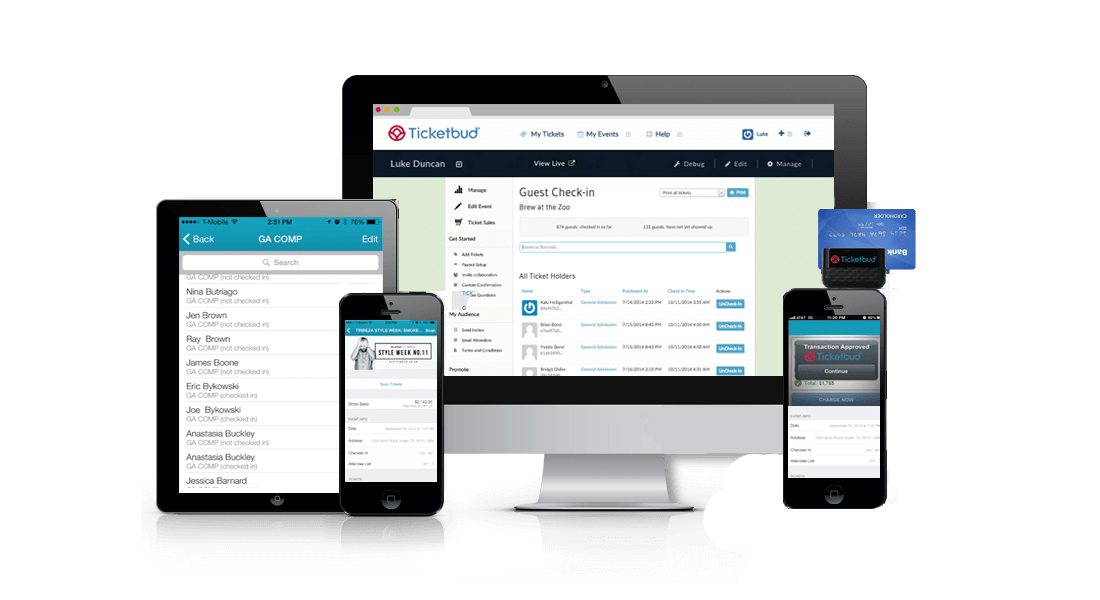 A major style break occurs with Ticketbud versus Eventbrite - we are organizer focused, whereas they are attendee focused. Unfortunately, this has some implications for the organizer. Any event on Eventbrite will have a section on the bottom informing the potential attendee of other events happening in the same area, at the same time. So they might have been interested in your event at one point, but then they might see something they like even more down below. As we are Organizer focused, each event page is self-contained and there is no possibility that a potential attendee could happen upon a different experience.
We also include cross-event sales reporting to guarantee a precise control from before your event begins to when it all wraps up. Every ticket purchase gives you valuable attendee data, and these insights can be used by planning committees and organizations so you can grow.
"The customer service has been second to none. Nothing has been an issue, and all of my queries from the other side of the globe have been answered super promptly. I'm impressed." Jonathan Powles, GS Adventures New Zealand
We're here to help!
Let an expert walk you through a demo customized to your event.
Get A Quick Preview of Ticketbud
Ready to Get Your Online Event Up And Running? We hope that you learned a lot about what makes Ticketbud as the best Eventbrite competitor, but one of the best ticketing softwares in general. Ticketing software with live customer service is hard to come by, and we offer some of the fastest payouts in the industry. There are also a lot of cool features like repeating events, and custom CSS editing you can take advantage of. Why not try us out?